About Pat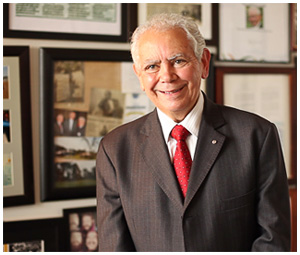 I was born in Italy 1932 to humble farming parents. My father first migrated to Australia in 1922 but after experiencing hardship and missing his young wife, returned to Italy. Deciding to try his luck again, he ventured back to Australia in 1936. When World War 2 broke out he lost contact with his family back in Italy and my mother was left with four young children and no financial support.

Resourceful by nature, though unable to read or write, my mother became an excellent provider and promoted a strong sense of family unity that kept us going through the war years. Soon after the war ended we heard again from my father �it was the greatest moment. The whole family migrated to Australia in 1948.

For me, it was wonderful to re-establish the relationship with my father. I joined him growing potatoes and onions in country Victoria but desperately anxious to learn English, found a job in a fruit shop where I could be around people writing and speaking the language. I worked there from four in the morning to seven at night for seven pounds a week.

Once able to speak the language I felt confident enough to pursue my ambition to be self-employed. In 1953 I started my first business venture, retailing fruit and vegetables. Right from the start I formulated a strategy to become a strong and honest operation. Within a few years I was operating a chain of six fruit shops in major Melbourne shopping centres. In 1972 I began merchandising bananas and soon after established and operated wholesale banana businesses in Melbourne, Sydney and Brisbane.

Even though my days of running a business are behind me I am busier than ever spending time with my wonderful wife Helen and my family. I am also the proud founder of many community-oriented projects which are a reflection of my beliefs and values.

Community service is the greatest honour in life so please be generous to others less fortunate and always remember �"life is good".